Online Grocery Shopping's Future is Bright. Are You Ready?
Nick Zaleski | March 13, 2017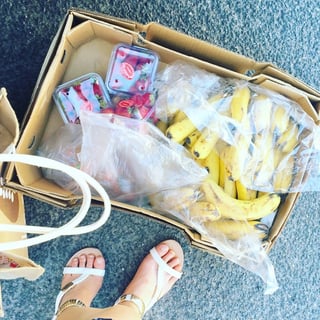 Takeaway: Online purchases of fresh groceries and consumer packaged goods enjoyed a 36% year-over-year growth spurt in 2016, shattering projections and expectations. As this expanding and booming ecommerce industry takes off, increasing from $10 billion last year to more than $18 billion by 2020, the ticket to grabbing a larger piece of the revenue and influx of new consumers is accessible and complete product content.
At a rate of $10 billon a year and growing, what used to be a luxury service in selected, population-dense areas, has become a commonplace consumer tool. Because Peapod and Fresh Direct have been running click and ship grocery routes since the 1990s, many have wrongfully cast aside online food shopping as old news. It's not.
In the next few years, helping consumers skip long lines and hectic grocery store trips by either home-delivering groceries, or having them picked up curbside is set to increase drastically. Driving that rabid competition to convert more and more of the $770 billion consumer packaged goods industry to online sales are the likes of Walmart's Jet.com, Amazon Fresh, Boxed, and almost every hometown grocery chain – from Kroger to Harris Teeter to Safeway.
When it comes to site and content, consumers expect the same with-the-times digital grocery experience from their local grocers as the younger, shiny, user-friendly online-only ones named above. To ensure your brand or grocery chain comes out ahead, two things must be kept in mind: Brands will lose traction if they don't offer the product content consumers have come to expect, and grocery store chains will lose online ground if they don't offer product content at all.
Here are a few critical reasons to boost the efforts in product content at your organizations.
Reach more consumers
Over the next 10 years, 70% of shoppers expect to purchase groceries online and either have them shipped to their home or picked up in store, according to the 2017 Nielsen report, "What's In Store for Online Grocery Shopping."
There are over 20 million current, dormant, or new-to-online grocery consumers who indicate they will increase or start shopping for food and beverages online over the next half year, says data from NPD Group.
Of the consumers surveyed in 2016 for the Nielsen report, 85% are either already using or definitely willing to use at-home delivery for online grocery purchases. 72% are willing to pick up in-store.
The U.S. Department of Agriculture is testing a two-year pilot for recipients of Supplemental Nutritional Assistance Program (SNAP), the federal government's low-income food assistance program. Amazon, Fresh Direct, Safeway, ShopRite, Hart's Local Grocers, and Dash's Market across six states will accept food stamps for groceries purchased online. In all, the SNAP program gives aid to over 44 million Americans, according to an article by CNBC.
Get a bigger piece of the $770 billion U.S. grocery industry
Online grocery sales in the United States totaled about $10 billion in 2016.
Currently, this sum represents only the 5% of consumers who prefer to purchase groceries online, with a third of them placing online orders monthly. This means well over a majority have yet to be converted to online food shopping.
By 2020, the online grocery sales industry total is projected to pull in at least $18 billion.
Successful retailers provide a site experience where product content is accessible to shoppers. Some of the best examples of online grocery shopping are found on the industry pioneers: Peapod and Fresh Direct. Newcomers like Jet, Amazon Fresh, and Boxed are also best in class.
The experiences with the most room for improvement are hometown grocery stores' and chains' websites lacking the technology to support product content, presenting the consumer with no or very little information.
The bottom line? Brands must ensure product content is robust and clear. Often the pinnacles of excellence in their categories, Coca Cola, PepsiCo, NestlePurina, Campbell's, and Perdue have some of the industry's most complete and content-rich examples of product content.These hearty product pages include uniform ingredients, nutrition facts, brand-provided descriptions, serving sizes, cooking instructions, package materials, ample photos of the product and nutrition label, peer reviews or ratings, price comparisons, and brand contact information.