Mobile Apps Are Soaring: Are Your Digital Plans in Place for 2017?
Cara Wood | December 20, 2016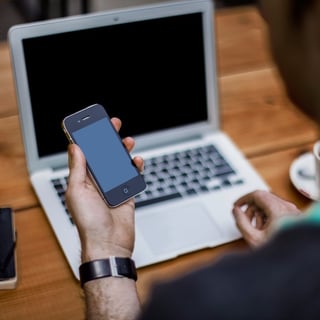 It was a first in retail history: On Cyber Monday this year, mobile sales totaled over $1 billion, according to Adobe Digital Insights. Sales on mobile devices, in fact, were 31% of sales for the day.

One big area driving that mobile boom are apps, found market research firm GfK in a recent study. They discovered that while more consumers visited mobile retail websites than apps over the Thanksgiving weekend, data showed that consumers spent more time in apps: "On Black Friday, consumers spent on average 21.2 minutes in a top 100 retailer's app, which is more than triple the average of 6.0 minutes they spent on a top 100 retailer's mobile website that day. Cyber Monday tells a similar story, as consumers spent 18.9 minutes in a retailer's app on Cyber Monday, compared with 6.6 minutes on a retailer's mobile website."
They are also downloading apps at a greater rate, according to research from comScore Research Survey, reported on in eMarketer. A quarter of respondents said they have between six and 10 retail apps on their smartphone as of April 2016, up 3 percentage points from October 2015.
The "Appification of Shopping"
Last April, the Wall Street Journal called this mobile app trend the "appification of shopping" — mostly because shopping on the small screen isn't as much of a pain as it used to be. Shoppers are savvier about their smartphones and tablets; retailers have upped the ante on their apps to make them more user-friendly and connected to rewards; and purchases are more likely to be one-click events. This new app-based behavior, the article finds, "promises to radically transform the retail industry by creating new shopping habits, reshaping sales tactics and carving out winners and losers. Instead of placing one big order from a computer, people are increasingly making smaller purchases in short bursts throughout the day on their phones, a phenomenon retailers call 'snacking.'"
There are challenges to mobile apps, however, the Wall Street Journal article found — big ticket items are harder to sell on phone apps that can't do more than offer tiny photos and limited descriptions, and retailers have to work hard not to appear invasive with too many notifications and location-based offers.
Mobile Apps are Also Trending for Brick-and-Mortar
Mobile apps are also changing the face of brick-and-mortar retail. A study on mobile apps by MicroStrategy, a global analytics company, found that retailers are finding success by arming their staff with mobile apps meant to help them interact with mobile-toting shoppers.
For example, The Container Store uses a mobile app that allows management to track sales per payroll hour. Managers can see which employees most productive on the sales floor at which time of the day, and make better staffing decisions in real-time. Mobile apps also allow store associates at retailers such as Gucci to access size and color information on the spot, to help customers gather information as they consider an in-store purchase.
Try These Tips to Improve Your Mobile Apps in 2017
While mobile apps are booming, retailers still have make theirs offer a great customer experience in order to compete in a highly-competitive app marketplace. A Digiday article offered several key tips to improve retail mobile apps: One, focus on high-value customers and pinpoint their behaviors. A Criteo report found that "this investment in top-tier customers improved mobile app conversions over mobile Web conversions by 120 percent."
Next, make sure your app experience is personalized. Localytics found that generic notifications don't work as well as "personalized messages that mention specific items left in a shopping cart or a promotion."
Finally, carrying customer behavior beyond the app to other channels is a key to success. For instance, Barney's has a second app for its native content site and content is shared between its two apps.
Clearly, mobile apps aren't going anywhere. In fact, retailers are turning more and more attention to the trend. According to eMarketer, the average U.S. consumer last year spent 3 hours and 5 minutes a day using apps, compared with 51 minutes surfing the mobile Web. As a result, the Wall Street Journal noted that "Target has shifted resources and staff away from Web development to its app—which it hopes to make central to all of its digital design."