How Soft-Tex®'s Director of Digital Marketing Won New Business & Fueled Growth
Caroline Egan | August 10, 2018
For over three decades, Soft-Tex® has been manufacturing and distributing specialty sleep products with an aim to incorporate the latest sleep technologies to the basic bedding industry. Founded by Art and Harold Perry, Soft-Tex has 7 brands selling across numerous retailers. With increasing competition in the bedding market, Soft-Tex found themselves needing a more impactful but simplified approach to ecommerce and working with their retailers.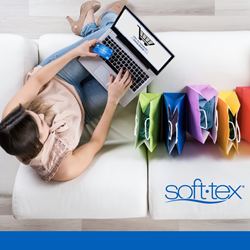 Enter Taylor Jones, Soft-Tex's Director of Digital Marketing, who joined the company in 2017 to drive their ecommerce business. He immediately noticed an immense hole in both process and speed impeding his team's ability to perform tasks and achieve goals. The Digital Marketing team is responsible for working with customers to deliver product information and ensure each retailer is provided the right product assortment.
Each time a customer comes to the Soft-Tex team, they have a unique purchase order and requirements, Taylor found the process of searching through expansive Excel sheets and tailoring each product assortment to dozens of times for each retail partner inhibiting and not a productive use of a time. He knew there was a better way and partnered with Salsify to expedite process and make an impact on their overall ecommerce business.
We spoke to Taylor about how Soft-Tex used consolidated product content to secure business and fuel growth with key retail partners.
How did your team manage product information and what has changed?
Like most manufacturers, Soft-Tex's product information lived in a variety of Excel sheets and it took weeks to get product set up sheets ready to submit and we focused almost exclusively on our larger customers missing growth opportunities with newer or smaller accounts.
The addition of Salsify has been transformative to Soft-Tex in 3 areas: improving speed to market, simplifying and unifying product information management, and improving associate onboarding.
Through the implementation of all of Salsify's tools, we've been able to get new product up with retailers in days, not weeks primarily from retailers being able to create line sheets from our catalogs and us being able to easily "syndicate" those products to them through having mapped each retailer's required set-up workflow. By going through the onboarding process with Salsify, we've been able to standardize a lot of marketing information and work to only have to upload it once initially into Salsify and to use Salsify tools to manipulate it into retailers' desired formats.
All of this means our team can make an impact quickly and accurately. It's far easier for new team members to understand Salsify, our data and mapping it each retailer, than showing them a spreadsheet that goes to Column ZZ and makes their eyes bleed. We are able to manage our time and the learning curve more effectively. It's easier to map out fields in a streamline manner, and knowing once the products have been mapped and is validated through the Readiness Report we know it can move forward to the retailer.
Additionally, the ecommerce team is not the only one department working in the platform--while we are using it daily for item setup and updates, we've provided training and access to other groups. Salsify has become a better of the version of the spec sheet in a lot of ways for our Product Development team--they can use it to make sure everyone is uploaded correctly, they can search a particular attribute and be given only the relevant product to better serve their needs. From my perspective, Salsify has really helped almost every facet of our ecommerce business.
What, if any, impact has Salsify had on Brick & Mortar relationships?
Overall, we've become a much stronger partner for all our retailers, we are able to move faster, to provide high quality content and validate our content before we send it. We've made their life easier, because we made ours more efficient. That being said, we have seen some great gains in Brick & Mortar with how we are using Salsify.
1. Catalogs: Being able to easily make a catalog has been beneficial-- we don't need to go through Excel and search for hours for the right product. We give the buyer a catalog of product to look through and they create a line sheet with what they like It's taking the guesswork out of it for our sales people.
Through the use of catalogs, a new customer with a base of internal sales reps ordered 300% more product from us because it's much easier to work with us and the automated catalog than other suppliers. All they have to do is go to the Salsify catalog, take the SKU, put it on their standard order form, submit it. That account continues to grow. We've really enjoyed finding new ways to use Salsify to better our relationships and grow sales.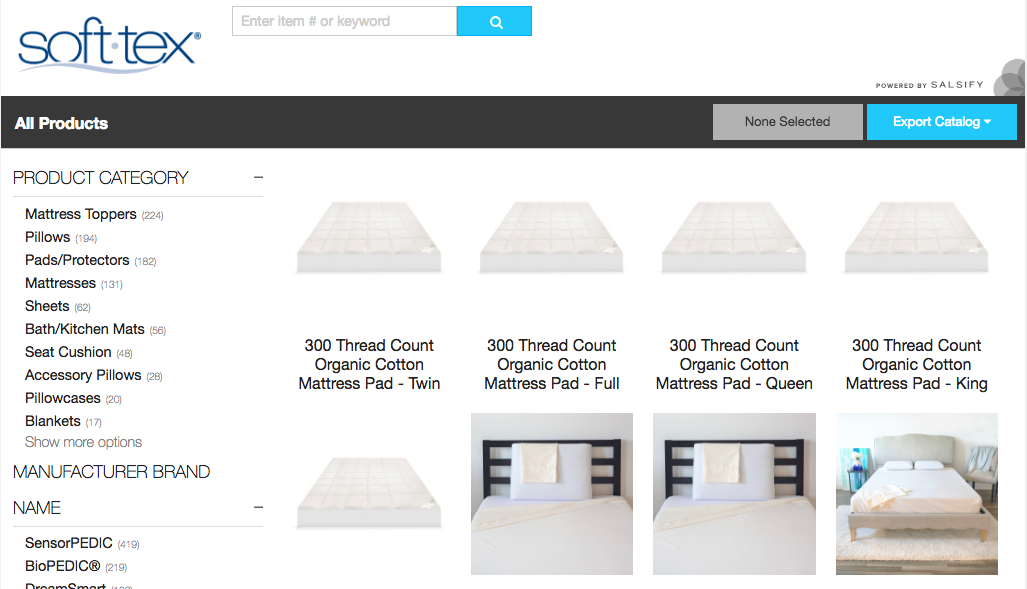 Example of a Soft-Tex digital catalog.
2. Process Streamlining: Brick-and-Mortar retailers have a lot of legacy technology systems in play to set up new product and often require unique, one off set-up sheets that can be a beast to manage individually. With Salsify, we map each form one time and then we are ready to tackle that retailer on an ongoing basis and have been far more agile and proactive in set ups and content improvements.
The bedding market is hyper-competitive, has Soft-Tex seen any advantages against competitors since adopting a streamlined product information process?
Absolutely, we have. Recently, one of our retailer partners went through a consolidation process where they asked us to re-submit product information in order to maintain that sales channel. We had about a week to put together a rebid and submit it to them. We were able to quickly create an enhanced version of our current assortment with them because of how easy it was to use Salsify to make updates in copy, descriptions, images, bullets, etc. We not only secured the previous product assortment with that retailer, we actually grew the account as they added additional products that were not part of their original assortment. Overall, having Salsify has reduced the speed to market and is a huge competitive advantage for us to have the inside lane to get product up and continuously submit improvements where other suppliers are still having to use spreadsheet upload format and manage a unique flow for each of their customers. Being able to store all our product information in one place has made a huge impact: we've grown our active ecommerce SKU count by 117% from where it was at the end of 2017--which is directly correlated to the implementation of Salisfy.
Have you seen any changes in how Soft-Tex works with retailers-beyond winning business and growing sales?
One of the more exciting and unexpected results of gaining control of product information is we now have seen a shift in how we work with our retailers--we have stepped into a consultancy role and focus on larger scale projects with them. We are leveraging our expertise in strong content and product experiences to help our retailers. We have been working with various digital experience teams at our retail partners and offering our two cents for our category in terms of navigation options and collaborating on what customers see on across the product description page. Having Salsify as our single source of truth and platform to easily distribute our content has given us back more time, and we've used that to take a step back and look at a level up from just our ecosystem to impact the entire industry.