How I Did It: Eaton Lighting Empowers Sales Team & Customers with Digital Catalogs
Caroline Egan | August 27, 2018
As a leader in the power management industry for over a century, Eaton has been powering businesses worldwide across over 175 countries in a variety of verticals. It's Lighting Division, which delivers a range of innovative and reliable indoor and outdoor lighting and controls solutions serving customers in the commercial, industrial, retail, institutional, residential and utility markets, has innovated the century old's buyer's journey by going digital. Eaton Lighting saw an internal and external need to meet the changing demands of digital commerce. In 2017 Eaton Lighting created an Ecommerce team to drive digital sales on their Direct-to-Consumer site.
Led by their first Director of Ecommerce, Reilly Upton, the division took charge of the digital journey customers and internal departments experience. Faced with spreadsheets and time crunched team members, Reilly sought to tighten internal processes and drive sales in all in one. Initially a small team comprised of herself and Taylor Armagost, Ecommerce Content Manager. The Ecommerce team eventually joined forces with two existing teams to help with this process: the master data management team and digital marketing team. This led to a decision to produce a self-service buying journey using Digital Catalogs powered by Salsify.
We spoke to Taylor about how Digital Catalogs have transformed Eaton Lighting's go to market strategy to empower internal teams and customers.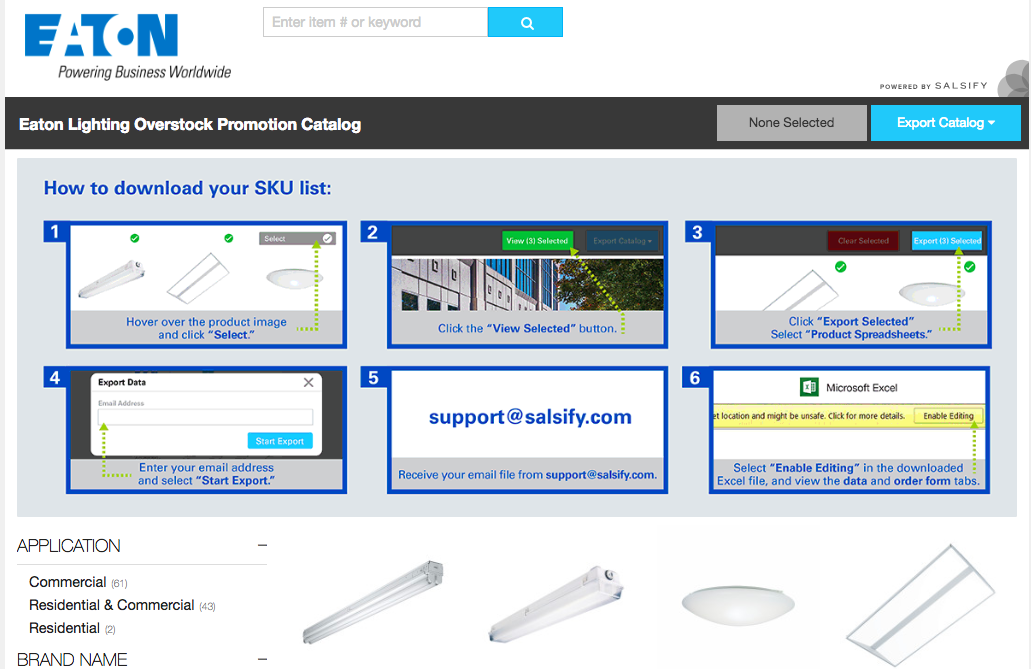 How has using digital catalogs changed the way Eaton Lighting delivers data and promote products with customers?
Before custom digital catalogs, we used web scraping tools to gather product information or a sales team member would reach out to a variety of colleagues in different departments to get product content for a certain channel, like our retail accounts or electrical distributor partners. It was a very lengthy process, and we often saw our products never being featured on a website or there was minimal product content being displayed about the products that were showcased.
Creating digital catalogs has allowed us to maintain content in a central location and showcase them. Our customers need product data and product assets to display our products -- the easiest way for us to gather all of this information and get it a customer has been by using Salsify digital catalogs. All a customer needs to do is export the catalog and use the order form to make their order. It's simplified the process significantly. I absolutely love the fact that we can get our data into our customers hands in a faster, more efficient, and centralized way. Salsify has helped us deliver all the data they need, all the attributes they're looking for, to ultimately help us drive sales.
How many catalogs does Eaton Lighting use and do they differ?
We have 4 catalogs up and running right now with one more in development. What's been awesome to see for the Ecommerce Team is different departments taking initiative and suggesting new catalog ideas to maximize our usage of Salsify and because the functionality is easy.
We started off with an Overstock catalog, not the retailer but our excess product we needed to move. The overstock catalog is ongoing as we're updating it on a monthly basis and it's based on all the excess stock that we have that is not moving very fast. It's enabled to us to try and figure out ways for people to buy these products and move them out of facilities. It's our most used and leveraged catalog.
After other departments saw the success of that catalog, our Channel Marketing team developed their digital MarketPro catalog. Then there's our HALO Home catalog--that's dedicated to a whole new product line and we're really excited to share this with our customers.
How do internal teams work together at Eaton Lighting to gather content and ensure inventory is up to date across catalogs?
As the Content Manager on the Ecommerce Team, I work with a variety of departments. For example, I work closely with our Marketing Communications department to develop the content that comes from the strategy I've created for Ecommerce. After product information has been created and added to our catalogs, our sales team acts as the liaison between Eaton and our electrical distributor partners to further promote and bring awareness to these catalogs.
Our Supply Chain team makes a big difference for our Overstock Catalog as it is imperative to ensuring our inventory is up to date and accurately listed in our catalogs. On a monthly basis, they monitor our inventory and make recommendations on what products we should be adding to a particular catalog to promote and convert customers. In addition to providing recommendations, the Supply Chain team monitors inventory to help us remove any product that has reached a certain stock level.
Once the inventory is updated, how does Eaton Lighting alert customers new inventory is available?
We've set up an internal process to maximize exposure of inventory in our overstock guide. We have "agent alerts" that we send out on a weekly basis to our lighting agents, and whenever we add new products to this catalog, we are promoting it through an agent alert, to let our team know. Then our customers will also get this information -- that new products have been added. Following agent alerts, we also have the additional resource of a dedicated sales person who drives the overstock program. That team member utilizes the catalog all the time to really promote and convert our customers.
How do you see the use of Custom Catalogs expanding at Eaton Lighting?
We've done some testing to correlate custom catalog usage with orders. A few months ago, we did an analysis between downloads and orders and were able to attribute at least 3 orders to our catalog. We know it's impacting sales, but my team would love to get a more granular perspective on the numbers so we'll be working on that as we grow our catalog usage.