How E-Cloth Improved Amazon Sales Rank by 49% in 3 Months with High Quality Content
Brad Simonsen | January 9, 2019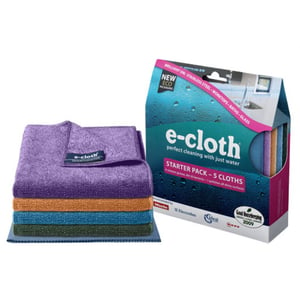 Chemical-free cleaning product brand E-Cloth saw an immense opportunity at the end of 2017 to grow their digital presence in the US in the highly competitive home and household category. The UK-based company overhauled their product content and brand messaging across their own direct-to-consumer Shopify site and other retailers including Ace, Houzz, Sur La Table, and Amazon to drive sales.
In January 2018, E-Cloth invested in Salsify to centralize product content, syndicate across key retailers and optimize product detail pages in order to better command attention on the digital shelf. We spoke with Director of Ecommerce and Digital Marketing Steve Johnston, who was brought into E-Cloth as a former Salsify employee, about how the company improved sales rank on Amazon by 49% in three months.
How has E-Cloth's selling model changed over the last few years to focus more on digital?
Historically, in the US E-Cloth focused spent a lot of our marketing and sales budget on a particular trade show that focused on novelty gift shops. We had the opportunity to seize the US market following taking ownership of our US distributor, and the expansion of product lines and we acknowledged the future of our business was digitally-driven and could position our growing product line more effectively online. One of our goals with Salsify is being a brand that can compete on large retail sites that have a national footprint in addition to the traction we already had on independent brick-and-mortar stores. We recognized a shift in how we needed to market ourselves; we are a premium brand and our marketing efforts did not present that way. On the digital shelf, we had an opportunity to essentially define the brand and be adjacent to premium houseware brands like OXO and Henkle.
What were the some of the initial benefits experienced from consolidating product information?
Prior to Salsify, our content was all over the place: spreadsheets, different folders, or other systems. We did not have the organization needed to start to identify what content was needed to showcase ourselves. My expertise of Salsify did help speed up consolidation and initial syndication. After I set up and mapped to channels, I created custom views for quality control for our images and used the Product Content Grader to pinpoint where gaps in our content existed. This gave me a foundation to make decisions about where to invest our time in creating high quality product content.
What steps did you take to improve product content and determine what needed further investment?
We had a huge opportunity to tell a brand story that was compelling and easy to understand through stronger product content. I had three-step process to make high-quality product content:
1. Establish our brand foundation. As a brand, what do we stand for? What do we believe in? What does E-Cloth look like if it was personified? How we speak to people?
2. Solidify a visual identity. Do we look like the brand we are trying to be? Does our product content present as premium? How do we ensure this visual identify is consistent across channels? Does our website present like how we do on Amazon?
3. Determine digital storytelling. First, do we have a story that will resonate with consumers, and second, are we able to execute that story with our digital marketing capabilities?
Who's on your team and how do you work together?
I was able to hire two team members to support the execution of this strategy. We now have an art director and a seasoned digital marketer, in addition to our business analyst and Salsify power user and website support team members. We all work within this framework as we expand our digital footprint and unify our brand globally. We've developed a tight workflow to make sure we have specific lists built out in Salsify that align our assortment across all of customers so there's no confusion about what products are going where. We also use custom views and internal readiness reports that we can dive into and quality control the really visible above-the-fold content.
What results has E-Cloth seen since implementing a product content framework?
When I started the vast majority of our product pages were not strong enough to make an impact on both sales and search ranks. To begin with, we focused on 45 of the 100-plus products we have listed on Amazon. Salsifys' Product Content Grader had dozens of products as Ds and Cs, most of these are now Bs and As. This translated into a 49% sales rank improvement across our 45 products in a little over three months. We've been able to maximize these efforts by leveraging Amazon Market Services for advertising. You can advertise all you want, but if your product pages aren't compelling or there is not a story that resonates with consumers, that money is a waste. High-quality product content is critical to our ability to succeed on Amazon.