Home Meridian: How we empowered our sales teams with Sell Sheets
Matthew Gardner, Home Meridian | September 7, 2016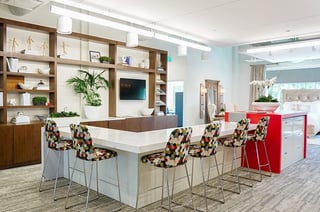 I'm the Director of Ecommerce for Home Meridian International, one of the world's largest furniture producers, shipping more than 12,000 containers a year. HMI includes the diverse brands of Pulaski Furniture, Samuel Lawrence Furniture, Right2Home, and Prime Resources International.

Each HMI brand serves a unique customer and market niche and like many brands we're constantly expanding and refining our furniture line, which makes maintaining up-to-the-minute product information a challenge. Recently, we looked to expand our list of retail customers and build on current relationships by offering wider range of products to our biggest clients. We needed to share product updates with retailers like Wayfair and Amazon as soon as they were available, but due to the timeframe of creating catalogs, our sales representatives would have to wait weeks, or sometimes months to get new information over to our accounts.

This June, Salsify introduced us to Sell Sheets, a new printable PDF capability they were developing to help ecommerce teams do a better job serving their sales teams, many of which still work with smaller retail buyers who prefer printed materials.

In just a few months, Sell Sheets transformed the way we presented and curated products in the HMI sales teams. By putting products on paper in an easy-to-print fashion, sell sheets saves us tons of time and eased the relationships between the sales and marketing departments by making it easier to supply the latest resources in a usable format.

How we use Salsify Sell Sheets
With sell sheets, we can quickly generate and print virtual catalogs for our new product development and sales representative teams. We can quickly manipulate the data presented based on the customer's needs and priorities. It's the perfect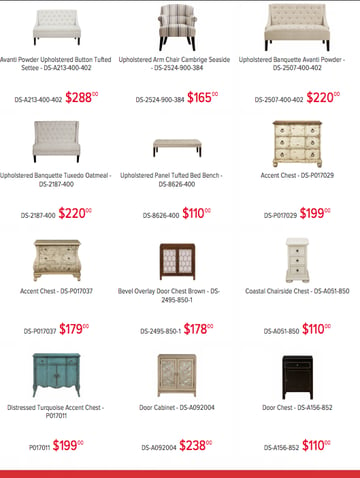 solution for when we need solid collateral – fast. We no longer have to wait on our marketing teams to create professional catalogs without sacrificing quality or customization.
Now, our sales reps can walk through a warehouse with easy-to-manage sell sheets instead of unwieldy binders or a laptop with WiFi that can (and will) fail at any moment in the bowels of an enormous warehouse. This assurance creates confidence for our reps and, most importantly, our customers, that understand we've invested in our product content and technology moving forward.

With Salsify Sell Sheets, our sales teams understand that they'll always have workable backup materials ready when other systems fail. Today we use Sell Sheets in presentations to our biggest retail clients. Case in point – Big Lots, with 14,000 stores in 48 states.

My Advice to Other Brands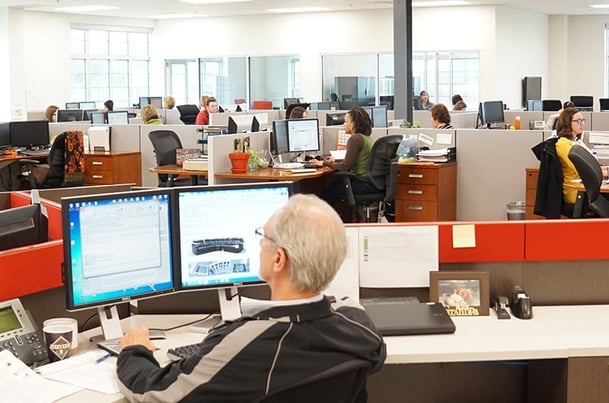 Home Meridian headquarters showcases some of its products throughout the space.
No matter what vertical you sell in, you already know that change is a constant in ecommerce and retail. Sell Sheets are one of the ways we are able to keep up and communicate these changes to a wide variety of audiences. In addition to empowering a salesforce with targeted content, your team could also use sell sheets to:
Support your presence at large conferences and trade shows. With dozens of furniture manufacturers in one room, all working to catch the attention of top retailers, we have sell sheets on hand to have the most up-to-date product information at our fingertips.
Beat competitors to market by weeks and sometimes even months. Sell sheets give us an edge over our competitors in distributor meetings because we reach retailers faster and with a fresher, wider assortment of product and can easily customize the sheets based on the buyer's interests.
Curating products. If we need to present products for an upcoming promotion and catalog, we use sell sheets. Our customers really enjoy being able to visually see the products before selecting which ones to include in upcoming events.
New Sell Sheet Features are on the Way
Home Meridian was lucky to be one of the first users of sell sheets, and, while I'm singing their praises, my team and I also had quite a bit of feedback about the beta version. Salsify's production team is constantly checking in, asking for feedback, and incorporating many of our suggestions into subsequent versions of the product.

The product team at Salsify is never satisfied. When a feature doesn't work as intended or simply annoys us, they immediately look for ways to improve. They've used our input along with other early customers to make the additional versions even better. For example, we needed a template design that matched our logo. The product team asked for our style guide, and recently, they released a new template in the exact Home Meridian hex color code!

Moving forward, Salsify is continuing to add to their growing library of templates for Sell Sheets, adding more color options and making it easier to incorporate and match customer logos and layouts. We look forward to more releases as Salsify continues to build out their features.