3 Home and Garden Brands Winning With Enhanced Content
Cassandra Handley | January 21, 2020
Leading home and garden brands understand the importance of enhanced content. Utilizing its capabilities can aid in product search and discovery and increase conversion by up to 10%.
As the rate of online shopping continues to rise, developing engaging digital customer experiences becomes increasingly crucial for brands hoping to compete on the digital shelf. Shoppers demand in-depth product information like product dimensions, materials, detailed care instructions, images, and video.
Brands must move beyond the basic image and blurb, asking the key question: What do shoppers want and need to know? Every element of your product page should be helpful for shoppers, aiding in their research and shopping journeys. Here are three home and garden brands that effectively use enhanced content to capture the imaginations of shoppers.
1. Chic Home
Bedding and furniture brand Chic Home utilizes enhanced content on Walmart to help its shoppers clearly understand the fine details about every product. An examination of its product pages illustrates several best practices for enhanced content.
Double-Expose Color Options
Shoppers often return items because the product color in person looks different than what was shown on screen. Chic home shows product colors in various formats on the product page for its 10-piece "Luna" comforter set to help remedy these concerns. Another benefit of showing the colorways side-by-side is the shopper can easily compare color options in one place as opposed to clicking through each image.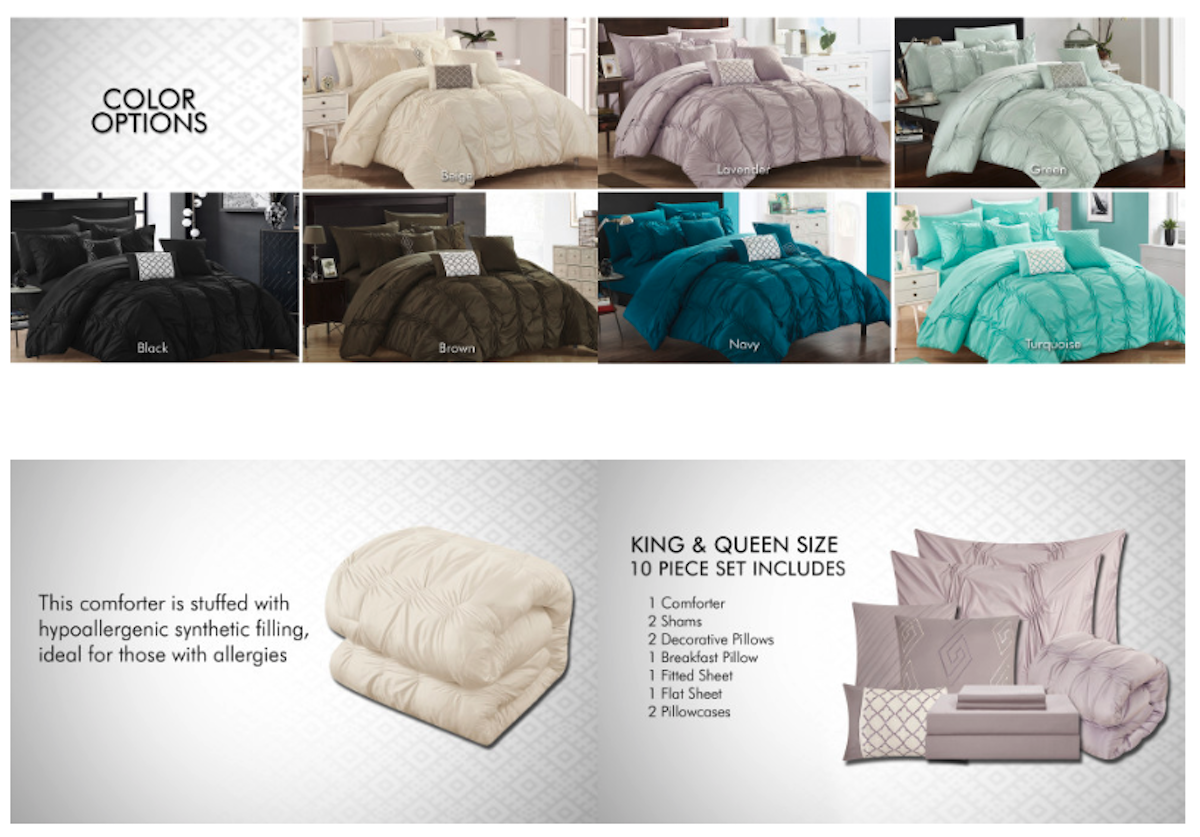 Image Source: Chic Home Walmart
Highlight Product Materials
Use the below-the-fold space to highlight material information, such as hypoallergenic features, potential allergens, organic, cruelty-free practices, sourcing techniques, or sustainable processes. Consumers increasingly care about these elements, which is why Chic Home highlights its hypoallergenic microfiber.
Engage With Video
Video can be useful to highlight product features, showcase brand background, and offer product information, tutorials, and testimonials. Chic Home highlights its "Valentina" comforter set with video, which helps shoppers paint a picture a static image cannot.
Video Source: Chic Home YouTube
2. Homz
Storage, laundry, and organization brand Homz also utilizes enhanced content on Walmart. Similar to Chic Home, color and materials are important considerations for shoppers, but the brand also found ways to highlight technical features on its product pages.
Feature Product Origin
Highlighting that a product is made in the U.S. is a powerful statement for many shoppers, which is why Homz highlights their American roots with a below-the-fold graphic. The country of origin and manufacturing processes can often boost the appeal of products.
Highlight Simple Benefits
Homz understands that shoppers want to have a firm understanding of simple characteristics. Does the product come on wheels? Are the drawers transparent? Can the shelf be stacked? What may be lackluster and evident to the brand may not be so apparent to shoppers — and can make or break a sale.
Utilize Comparison Charts
Some retailers offer product comparison grids, which often also display other brands. Brands can reclaim the comparison chart and create one of their own – showcasing only their products – and help shoppers find exactly what they need.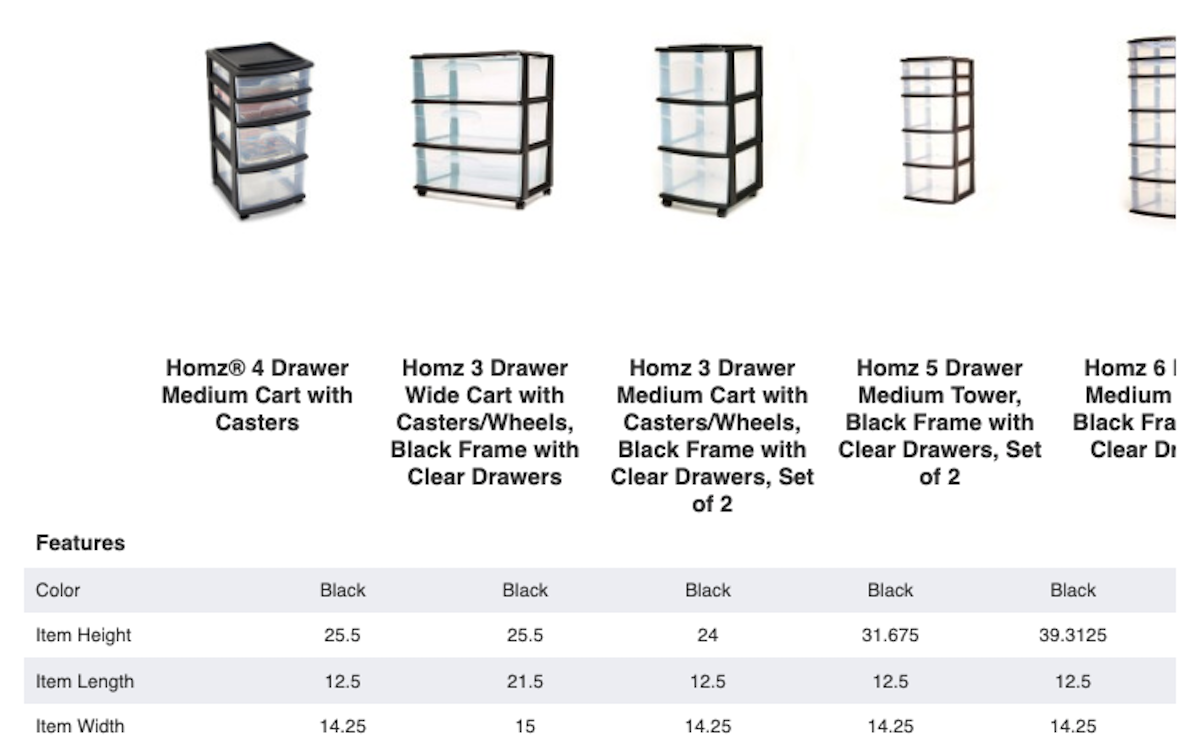 Image Source: Homz Walmart
3. Libbey
Glass and glass product manufacturing company Libbey uses enhanced content on Amazon to highlight its product catalog on Amazon. For glassware and dinnerware brands, highlighting aesthetics is as important as showcasing durability, which can be challenging to manage digitally.
Explain Product Care and Durability
Teaching shoppers how to properly maintain a home and garden product increases its lifetime value. Highlighting durability can also help shoppers decide between comparable products online. Libbey uses video to illustrate the ability of its 16-piece tumbler and rocks glass set to withstand tumbles and hits. It also highlights its legacy through a brand video, which demonstrates the longevity of the brand and its products.
Video Source: Libbey YouTube
Ensure Content Is Digestible
Shoppers voraciously research products, which is why content must be easy to read and understand. Libbey keeps information straightforward and avoids cluttering the page with an overload of text and visuals.
Repeat Key Themes
Reiterating product feature bullets in the enhanced content, like Libbey does on its product pages, reinforces key themes. This retains the attention of shoppers, leading them to stay on product pages longer.
Develop Engaging Product Experiences
There are many ways to improve below-the-fold content. Encourage teams to analyze what they would want to see as a shopper and what would benefit their shopping journey. When done correctly, enhanced content has shown to increase conversion and expand brand trust. It's time for brands to boost key business metrics by developing engaging product experiences with enhanced content.