It was big news in the fashion world: In early March, luxury goods group LVMH was said to be planning to launch its own multi-brand e-commerce site, which, if true (the company declined comment), would mark the company's most significant digital investment since hiring a chief digital officer in 2015 — and offer a sign of how e-commerce has become a higher priority for the company, which includes top brands such as Givenchy, Louis Vuitton and Fendi.
But it was just one example of a growing trend that has pushed luxury e-commerce to a tipping point: While e-commerce still only makes up a small percentage of overall luxury goods sales, it is growing fast: McKinsey predicts online luxury sales will triple over the next decade. No longer does buying high-end mean buying in-person. Instead, venerable brands such as Hermes, Chanel, Jimmy Choo and watchmaker Vacheron Constantin are throwing their expensive wares into the online ring.
Previously, many luxury brands considered e-commerce the wrong way to sell their high-priced, exclusive products. These days, however, this can be a costly error that doesn't consider the fact that increasingly-younger luxury shoppers expect more and better web content. Digitally-savvy millennials, in fact, will likely become the largest spending generation in history by 2035. There are also international clients to reach out to — more and more, the new rich are from far-flung countries such as Russia, China and Dubai.
Finally, for the customer, online shopping is no longer just about price — today's shoppers want convenience and brand accuracy. For the brand, it's also an essential opportunity to control brand presence and reputation.
Content: The key to the luxury e-commerce castle
While luxury brands want to use e-commerce to introduce their products to new customers, they admittedly struggle with the process of getting content online and overcoming how today's retailers might portray their brand.
The key to success? A digital first, internal process for brands to centralize, organize, manage and optimize product content. For many luxury brands, this means taking some of the asset collection done today by their wholesalers and including marketing and creative teams in the process.
Optimizing content is also about creating engaging experiences that you might not even get in the physical store. Hermes is one brand that realizes content plays an essential role beyond just a product listing to define its online experience. On the company's website, for example, the Hermès House of Scarves is whimsically designed with illustrations, and customers can click on different parts of the house to add items to a wish list, a shopping cart, and watch product video.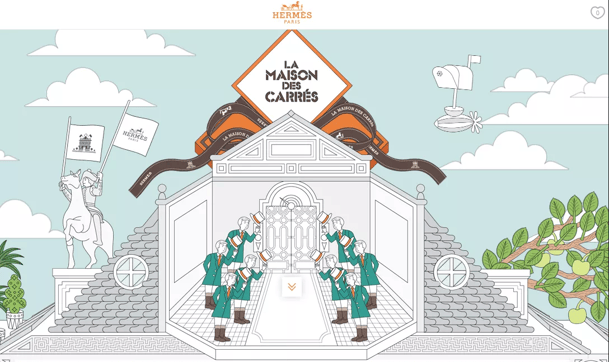 On Burberry and Louis Vuitton's websites, eye-catching luxe images are front and center, creating a premium experience right on the homepage. In addition, shoppers can play video of their fashion shows and create online fashion editorials — neither experience can be found in the brick-and-mortar store.
Personalization, exclusivity and service: Elevating luxury e-commerce
High-end shoppers expect personalized attention when they walk into their favorite store, so luxury retailers need to make it an online priority. For example, on the Hermès website, question fields pop up when an item is added to a cart, asking for the preferred method of delivery and location. The site remembers shopper preferences in order to offer new exclusives and special offers in the future.
Exclusivity is another way luxury brands can make their e-commerce efforts stand out: Gucci, for example, recently launched its Garden collection of apparel and accessories exclusively on its website.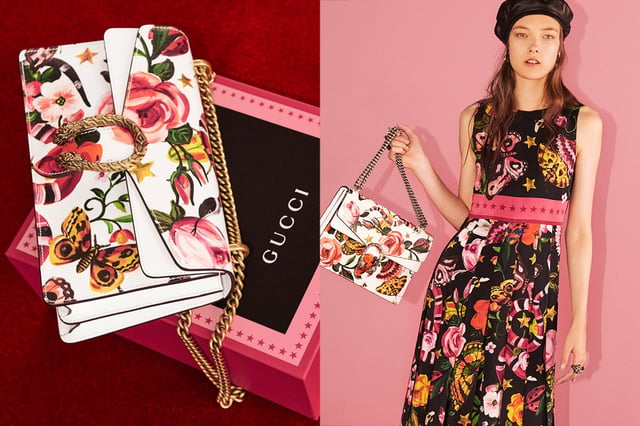 Top-notch customer service, of course, is table stakes for any luxury retailer — and that goes double for online. Both Burberry and Gucci are well-known by experts for front-and-center customer service offerings on their websites — lots of "can we help" offers are everywhere, as well as extras such as pretty custom boxes (Burberry) and intricate product details (Gucci).
A premium experience in a vast online playing field
Creating a premium experience in the vast playing field that is e-commerce — and led by mass-market retailers such as Amazon — is no easy feat, while creating a luxury feel in a pixel-based universe still has many brands and retailers scratching their heads. However, high-end retail will have to conquer the digital landscape if it is to succeed over the long haul: The retail industry has transformed, and the luxury business have to come along for the ride — while differentiating themselves for their discerning customers.