Content Quality Control Chrome Extension | Salsify
Devers Talmage | November 30, 2017
As a technology company, we're constantly looking for new problems to solve, and simpler ways to solve old problems. And we tend to geek out about some of our specific features that solve our customers' problems in cool, new ways. We built our new Salsify Task Creation Extension for the person at your company who's good at finding problems with your brand content. Now it's easier for those important errors to get in front of the person who can resolve them at a moment when they can fix it quickly.
THE SALSIFY TASK CREATION EXTENSION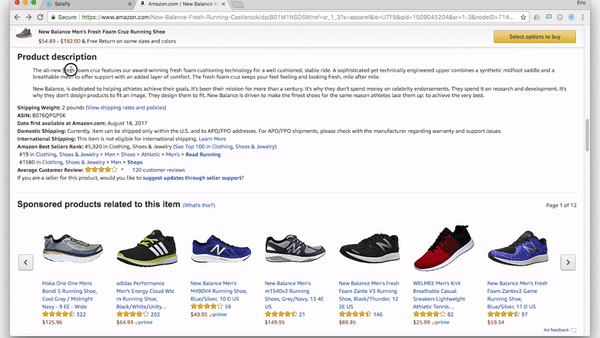 Today, a brand manager or marketing executive may send you vague emails. "Typo on Amazon product page" or "We need better images for last year's wrench set!" or "There's an out-of-date brand description on Bed Bath & Beyond." Or perhaps, you are the one finding the issue and meticulously capturing a list, only to spend more time later going through each issue and tracking down the content and contact that can resolve it.
These urgent, important issues with product content on a third-party retailer site can be difficult to keep track of. It can be confusing who the best person on the team to route them to is. And it is often near impossible to get transparency on how close they are to being resolved and when they have been fixed. Having inaccurate or out of date content is damaging to your brand and your customer's product experience. And feeling like you've wasted your time hunting for an issue or are powerless to fix a mistake is beyond frustrating.
In order for your brand to deliver the product experience your consumers demand, you have to know what your product experience is out there, in the wild. How is your brand being represented across the web? The Salsify Task Creation Extension enables you to capture thoughts while you are seeing your product on Amazon or Walmart or any other website. You can easily capture an action item against that URL with a screenshot and then assign it to yourself or someone on your team in Salsify.
How Salsify customers use Our Task Creation Extension
Report content errors or inconsistencies. As soon as you notice an issue with content while browsing a retail site, you can quickly create a task for a team member to address the issue.
Empower a larger team. Regardless of their role in your organization, team members can be set up to ask questions or report problems with product content within Salsify through their Chrome extension.
Streamline communication with your partners. Give your trusted vendors their own Salsify log in to provide the ability to ask questions or make requests from a digital catalog. Your team can then see these those requests surface in Salsify.
Now there's a frictionless way for any user to go from browsing the web and seeing an issue to sending a useful message with all the information needed to fix that issue. That message will be waiting for the right internal stakeholder the next time they log-in to Salsify. It sends a daily or weekly reminder to that team member until the task has been resolved. Once resolved, whoever initially assigned the task gets a message that it was completed. This creates a full circle of accountability for your product team.
Are you a Salsify customer who wants to start usingSalsify Task Creation Extension? Call your Salsify Account Manager to get it enabled for your whole organization. Then any Salsify user in your organization can download and install the extension from the chrome store for free and start using it.