How eBags Built a Winning Flash Sale Strategy
Cara Wood | August 24, 2017
Over the past two years, eBags' traffic and sales have dramatically increased, according to recent RIS News coverage. The online retailer's success is largely due to investments in personalization and user experience.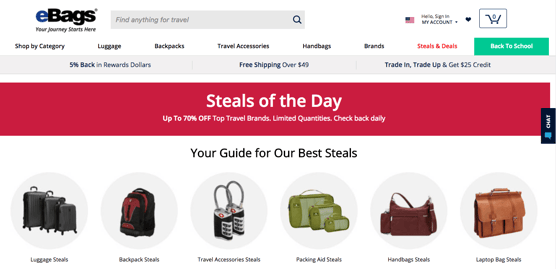 EBags CTO Mike Frazzini credits the recent launch of a mobile "Steal of the Day" flash sale - that allows shoppers to set customer filters and alerts.
Successful flash sales require a dedicated process of thinking digital first and having the content workflow process in place to deliver updated content to specific sales channels.
Here are three ways you can implement a product content process that will support flash sales and other quick reaction sales opportunities:
1. Identify opportunities to run short promotions. Whether it's back to school season, holiday gift giving or a new product line launch, flash sales create urgency and excitement for shoppers. You change packaging, descriptions, and pricing seasonally or for these targeted merchandising promotions. You need to empower stakeholders to start the process of updating information in every place it lives.
2. Establish guidelines for updating content. Understand the types of content needed and the requirements for the promotion platforms you use as well as your own homepage. Set a standard for where this data is stored and ensure that brand manufacturers and other data suppliers as well as your own internal marketing and sales team have access to the data necessary.
3. Put a communication plan and timeline in place. Who initiates a content refresh that drives a flash sale? Which departments need to know and what is the timeline these changes are communicated?
Wether you are an enterprise global company or a small nimble organization, keeping a product page accurate requires a lot of moving peices and information from your marketing department, your brand suppliers team, and your logitics team. Flash sales require a consistent place to store, optimize and distribute product information.