Citizens of Salsify: Meet Director of Product Management Kristen Fortino
Beibhinn George | September 16, 2016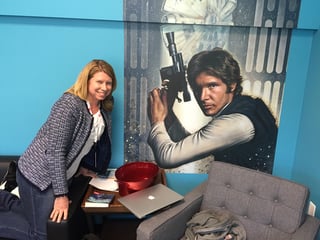 With our Salsify team growing, we've introduced a new blog series to introduce some of our team members and how they contribute to the company. Next up is Kristen Fortino from the Product Management team!

Kristen is from East Lansing, MI and has been with Salsify for one year. Her favorite hidden gem is the summer Friday night movies at the Boston Harbor Hotel. As the Director of Product Management, Kristen drives the evolution of our platform to help our customers get great product content to their channels more easily, resulting in better shopping experiences for the consumers and more revenue for our customers.

What is one project you've worked on that you're proud of or excited about?
Everything! Product Management is fun because we're constantly listening to customer feedback on what their main business goals are and ways we can improve the product to better enable those goals. We're able to continually respond to that feedback and enhance the platform, whether it's small usability features, like being able to easily navigate through products or figuring out new product areas such as an upcoming feature to better track product publications or new capabilities and offerings for our retailer customers.

Where do you see commerce/e-commerce in the next 5 years?
I see it being everywhere. Whether you're watching a video or walking down the street there's always an opportunity for commerce. I expect that consumers will have even more power than today and retailers and brands will use more virtual reality approaches and a lot more personalization, all of which requires even more information about the products and who the consumers are.

If you were on an island and could only bring 3 things, what would they be?
Connected wi-fi, sunscreen and a Kindle. Oh and I guess I should bring my husband.

Describe your last shopping experience.
It was a birthday cake for my husband's birthday. I googled and then found one that had availability within the 2 weeks notice! I also helped his mom get his birthday present, which was wireless speakers. I googled and went through a ton of reviews.