As audience and ad dollars shift online, brands need to adopt new ways to succeed on the digital shelf. In a recent AdAge webinar "The Digital Shift: How Brands Win on Amazon," Salsify co-founder Rob Gonzalez shares how brands can operate and succeed under the strict and ever-changing algorithms that dictate success in modern commerce. You can watch the full webinar now or read our round-up of highlights below.
A shift in spend means a shift in operations
We've already crossed the threshold of where digital ad spend has outpaced TV ad spend in terms of growth. As brands shift their total advertising spend from TV and other mass media channels, they are moving it to trade marketing – spending more money and resources to improve advertising and merchandising on key channels. There's a massive shift in the way that successful brands are operating now in terms of their organization and allocation of dollars and other resources. Brands that are doing well have brand and the trade teams work very, very closely together.
Success on digital requires effective coordination across multiple departments
In traditional brand marketing you can figure out what your marketing mix is going to be. You can plan dollar allocation and creative resources to specific types of marketing channels to get results that you want. But that predictability has gone away with Amazon and other online retailers. The algorithm that dictates which product pages a shopper will see is a black box and the only way to learn what's working is to test it.
For example, there are many factors influence Amazon Sales Rank and they all require coordination across teams. Trade and brand teams must coordinate not just when the ads are run, but what copy or on the ads with what copies on the detail pages. Text, match relevance, pricing, availability, sales conversion rate, ratings and reviews, and imagery all impact ranking. Your creative brand knowledge and expertise could be applied on a digital shelf to not only drive conversion rate and drive sales through each sales channel.
Telling your brand story on one retailer site can lead to sales from everywhere
More people will see your Amazon product detail pages this month then will see your television ads. That means that you have an opportunity to tell a story through Amazon in a way that will resonate with consumers and will be trusted by them. In fact, Amazon is the entry point for shopping for many types of products. Use that to your brand benefit. Run your own mixed market models to prove what influence your Amazon pages or paid campaigns have on your sales.
Many of our customers look at whether Amazon Market Services campaigns influence Amazon sales or sales of their products across other retailers, like CVS and Walmart? It turns out that frequently it's both. Improving product pages on a popular sales channel can boost your overall sales.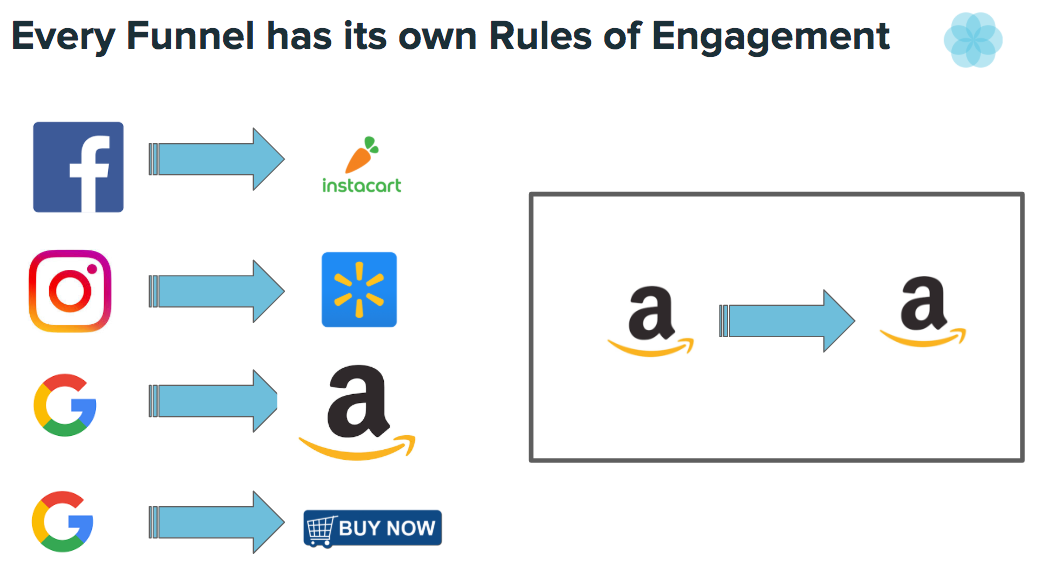 Driving sales online is an ongoing, multi-faceted effort that your entire organization should support and benefit from just like a branded ad campaign. If the consumer is looking for you, it doesn't matter where they find you. What matters is that your product is there and that content they find is compelling and accurate. It is to the brand's benefit to improve the quality of product pages even on marketplaces like Amazon, Walmart, Facebook, or eBay. Whether it's a used product or a new product if your brand is represented in a way that conveys pride and trust, you build that brand value and can drive emotion and loyalty for your brand.