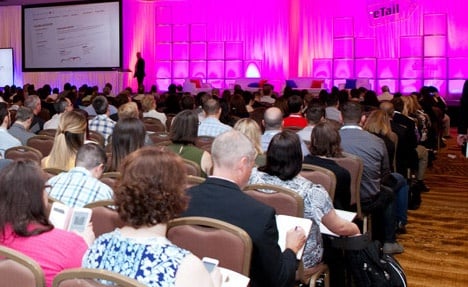 This year's Etail West event in Palm Springs is set to generate good conversations and insights for ecommerce leaders around the country. If you are a brand, you'll see the retailers you work with there. Amazon, eBags, Walmart, Target, The Home Depot, and others are all set to take the speaker's stage. You can also visit us at Booth W29 to hear about Salsify's latest updates to our product experience management platform. But where you may want to focus your attention is on other brand leaders, who are facing some of the same challenges you are.
Here are seven brand leaders to seek out and what to talk about:
1. For a conversation about driving digital transformation at scale
Noam Paransky is Senior Vice President of Digital at Gap Inc. He is responsible for the digital engagement and sales channels for Gap Inc.'s portfolio of global brands (Old Navy, Gap, Banana Republic, Athleta, and more. At his keynote, "Delivering Great Experiences That Drive Customer Loyalty And The Organization Behind Them," Noam will share how Gap Inc. is transitioning to a customer obsessed culture by delivering omnichannel experiences that drive loyalty through multi-channel/ multi-brand purchases.
2. For a conversation about being scrappy and taking on Amazon
Tony Drockton is Chief Cheerleader at Hammitt Bags. He is building a new American brand inspired by the European model that prioritizes quality. He'll be joined by Brian BeckSVP Ecommerce & Omni-Channel Strategy at Guidance an international manufacturer and distributor of travel products, at an afternoon panel, "Panel Remix: Stealing Smart From Amazon." Expect to learn how both brands optimize their product experiences with lessons from the ecommerce giant.
3. For a conversation on merchandising for the digital shelf
Grant Barth is the former Chief Merchandising Officer at Levi Strauss & Co. Grant has served as Chief Merchandising Officer for Levi's since 2013, heading up five global and regional teams that have consistently delivered top-line and bottom-line growth of between 3% and 5% annually on annual revenue of more than $5 billion. During his midday keynote, "Architecting A Brand Through Merchandising Excellence," he'll share his insights on the merchandising tactics marketing professionals must adopt.
4. For a conversation on more immersive, personalized product experiences
Zach Overton is VP, Consumer Experience and GM of Samsung 837 and Galaxy Studios at Samsung Electronics America. He has developed creative marketing initiatives and innovative partnerships that reimagine the consumer experience. During his case study session tomorrow, he'll share how Samsung moved from speaking at customers about tech specs and product features to engaging with them through immersive experiences.
5. For a conversation on adapting to changes in consumer behavior
Tara Brannigan is Head of Marketing for Book by Cadillac at General Motors. She leads marketing for the first-of-its-kind luxury vehicle subscription service. During her session on "Transforming a Legacy Brand" she'll provide advice on how to developing the support, resources, and mind-set needed for successful consumer experiences.
6. For a conversation about optimization for the digital shelf
Lisa Malleus is Head of Ecommerce Digital Solutions ITS Americas at Mondelez International. Lisa leads ecommerce transformation and digital solutions for NA and LATAM markets for Mondelez International, snack food giant with world-renowned iconic brands including Oreo, Chips Ahoy!, Triscuit, Nabisco, Toblerone, etc. At "Panel Remix: Using Fewer Clicks To Get The Sale" she'll be joined by Bryan Benavides, Director of Digital Marketing at Abt Electronics, Inc., the largest single store retailer in the nation, and Nikhat Afza, Director of Mobile Applications at Macy's. Expect to learn what each brand measures to continue to drive results online.
7. For a conversation about transforming into a digital organization
Harsh Acharya is Head of Technology and Product at Dell.com. He leads vision, strategy and execution of next generation digital and commerce capabilities for Dell.com across the globe. On the panel discussion "Evolving Your Digital Organization For The Future," he'll be joined by Dhritiman Saha, SVP, Digital, J. C. Penney and Raghu Sagi, Chief Engineering Officer, Sephora. Expect to learn how to transform your culture to execute successful omnichannel initiatives and develop an overall data-centric picture of your customer as the foundation for your business strategies.
Visit us at Booth W29 to let us know how these conversations went and what other challenges your brand is facing. We can share the ways that the leading brands we work with are tackling the challenges facing you today.