Syndicate to Dominate: 4 Steps Retailers Can Take to Team up with Brands to Win Ecommerce
Amber Sinicrope | June 28, 2018
To win online, you must have control over how your products are displayed on the digital shelf for every consumer. Brands and retailers know that content drives success in ecommerce, but getting it there is still a manual process. There is no "easy button" for updating your product content, and in many cases, retailers haven't invested in the pathways necessary for both of you to succeed.
Below is a guide to conversations with retailers about syndication that can help you both grow at the pace and scale of consumers' demand. These best practices include concrete steps that any retailer can implement to drive urgency, regardless of budget or resources:
1. Allow brands to BYO-Data. You are investing in new, engaging content, and you need a way to share that content with retailers. Some retailers have proprietary relationships with specific vendors that force brands to buy licenses in order to share any product data. These walled gardens and tolls pose huge challenges for brands—and also limit retailers' ability to get complete and up-to-date content for as many SKUs as possible.
Your content is adding value to retailers' sites, and you should be able to send data to retailers without an exclusive relationship or additional costs. Working with as many partners as possible is becoming a best practice for optimizing the growing ecosystem. Retailers like Amazon, Walmart, and most recently Instacart, have moved to an agnostic model, working with many partners to increase SKU coverage and enhance product content as quickly as possible. This open-ecosystem approach empowers brands to take control of their content and use their technology partner of choice--BYO-Data. This open philosophy also gives retailers access to a deeper and more diverse pool of content, which is foundational to building a winning product experience.
2. Make requirements transparent and simple. In addition to a pathway, you also need an easy vehicle for submitting and managing your content with retailers. Some retailers require multiple steps and validations to get products live or to make updates. Forcing you to jump through such hoops often leaves retailer sites with old brand data and inaccurate product representation online.
Instead, retailers should keep requirements to a bare minimum and communicate expectations clearly. Did you know that Instacart only has three required attributes for brands? Or that Walmart provides detailed help texts for all of their attributes? Small things like this add up in big ways, enabling you to get products online quickly and know exactly what retailers are looking for to optimize content.
3. Automate as much as possible. Speed to market is critical to syndicating effectively for ecommerce; lost time represents lost opportunity and unconverted dollars. Imagine a consistent spreadsheet that you update weekly and have automatically delivered to a retailer partner and ta-da -- your content is refreshed. Yes, APIs are expensive and many of your retailer partners don't have Walmart-sized IT budgets, however, there are other cost-effective ways to ensure that you can continually provide content that is relevant and accurate.
Some smaller, scrappy retailers are keeping spreadsheet-based processes while automating the delivery mechanisms to endpoints like Dropbox. Or, like the Facebook Ads Catalog, providing you with an option to schedule product updates through an FTP connection of your choosing. Through these simple shifts retailers can dramatically help you expedite your content management cycles.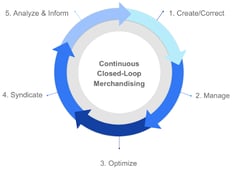 4. Provide feedback and analytics for the brands. It is no longer enough to "set it and forget it." The future is a closed-loop merchandising world where retailers introduce innovative consumer experiences that are personalized and enable you to optimize content for these new merchandising capabilities and then iterate on that content based on performance analytics.
By sharing item status, actionable feedback, and/or analytic reporting with you, retailers can drive urgency and improve your performance and their KPIs. Overstock provides item status e.g. received, rejected, accepted) and actionable feedback to help brands fix errors and optimize their content. Amazon pushes brands for the best content possible by providing analytic scorecards that help brands focus on what needs improvement over other types of content.
The path to success on the digital shelf requires intense collaboration between brands and retailers to create the shopping experiences consumers demand. In a world where market share and margins are constantly under attack, brands and retailers can no longer collaborate on product experience once a season. There must be a consistent, direct line of communication that enables the rapid exchange of optimized product content and performance feedback. This is increasingly important for all retailers and the above steps will allow any retailer, large or small, to meet the increasing needs of the modern world and compete with the ecommerce giants.
To realize this vision, the Open Experience Alliance was founded in 2017 by a small group of visionary brand manufacturers who, frustrated with the pace of content collaboration, approached the founders of Salsify and asked how brands could encourage change on the part of their key retailer partners.