Simplifying the Process: Salsify's Channel Readiness Report
Josh Mendelsohn | August 7, 2015
We've developed a lot of raving fans over the past couple of years because of how much faster and less frustrating it is to get products to market using Salsify. And one of the most universally loved aspects of Salsify's product content and synducation platform is our Channel Readiness Report.
Here's how it works:
Once your data has been mapped to any of the retailer and marketplace sites that are built into Salsify, we make it simple to run a gap analysis that compares your data to the unique requirements of the channel you want to publish your data to.
In just a few seconds, you'll know how many of your products are ready to be published, where you are missing required data, and where there are optional attributes that you can edit to enhance your product listings.
Then you can easily filter the report to see only the attributes that require attention or are ready to go without manually going line by line through spreadsheets to find the errors.
The Channel Readiness Report is particularly useful when you are adding new products, setting up a new channel to publish to, or when a retailer or marketplace changes their requirements.
For example, Walmart just announced a new set of product content specifications that all of their suppliers must comply with beginning later this year. As part of this announcement they also stated that the "spec" would continue to be updated on a regular basis as their ecommerce business evolves.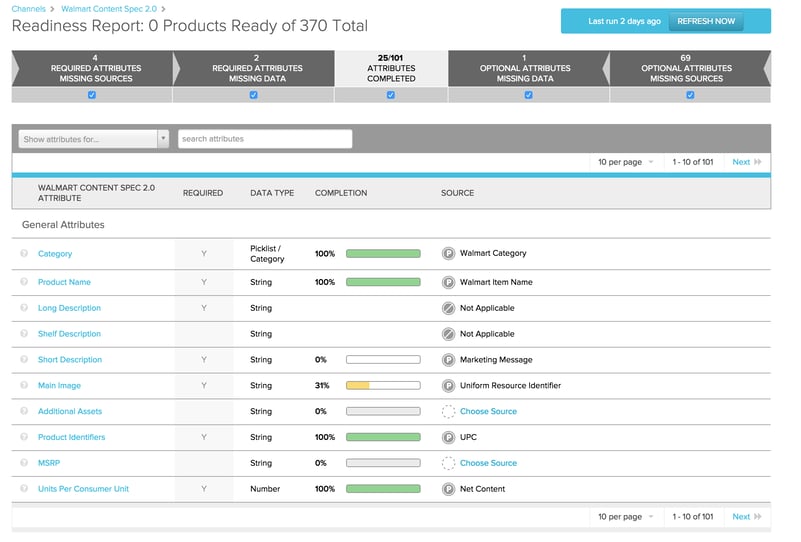 We've already built these new requirements into Salsify, and are working with the Walmart team to keep them continually updated. The great news is that by running the Channel Readiness Report, you'll always be able to know whether you comply with the latest version and what, if anything, needs to be modified.
Whether you work with Walmart or not, using this report can save your team tons of time and aggravation in finding the gaps in your product data. That way you can reach out to the people in your organization that can help you get the information you need and focus less on finding gaps and more on filling them.
See if Salsify is a fit for you. Schedule a live demo which will show you how to:
Centralize all product content and improve collaboration
Increase product distribution with automated data publication
Optimize content for each sales channel with readiness reports