Salsify Guided Onboarding Services Package
Objective
Salsify empowers our customers to deliver the product experience consumers demand anywhere they choose to shop online. Our product experience management (PXM) platform combines the power of PIM and DAM capabilities, the industry's broadest commerce ecosystem, and actionable insights to orchestrate compelling product experiences through every digital touchpoint.
A successful Salsify onboarding will enable your business to meet changing and unique consumer, customer, and internal requirements for high-quality product content, to increase responsiveness to content requests, and to deploy a centralized repository for product content and assets across your company.
About the Salsify Guided Onboarding Services Package
Salsify's onboarding philosophy revolves around anticipating and preparing for continuous changes in the commerce landscape. Our Guided Onboarding Services Package begins by collaborating with a Salsify Customer Champion to develop a program plan to ensure a successful Salsify roll-out for your company. Once goals have been solidified and planning is complete, your Project Team will have the ability to attend Standard Group Training sessions aimed at providing you the foundational knowledge needed to utilize the platform, as well as best practice guidance in the form of advisory hours with our Implementation Consultants. Our objective is to enable your Salsify Project Team (see below) to drive setup, rollout, and ongoing administration of the Salsify platform.
The goal of the Salsify Guided Onboarding Services Package is to empower your Salsify project team to have a comprehensive plan, training, and best practices from our experts to successfully reach your business goals.
Services Scope
The scope of the Salsify Guided Onboarding Services Package includes the services enumerated here ("Onboarding Services") in support of the above objectives, delivered during the Onboarding Period and subject to the assumptions set forth below.
Planning
Salsify will assign a Customer Champion who will work with you over the course of your Salsify subscription to develop and execute a program for rolling out Salsify to your business.

Your Salsify Guided Onboarding begins with upfront planning with your Customer Champion over a two-week timeframe. Your Customer Champion will provide:

Broad plan to fully adopt Salsify into your organization

Project plan for your implementation based on your priority goals. This will include recommendations on attendance of trainings and utilization of best practice guidance in the form of advisory hours

Outline of prerequisites needed to begin implementation
Training
Your Project Team will complete our Salsify Standard Platform Training curriculum, which provides foundational Salsify skills that ensure your team has the skills necessary to configure and administer Salsify.
Your Project Team will have access to both live group training sessions (included with your Salsify subscription) as well as on-demand recordings. The Salsify Standard Platform Training curriculum evolves regularly and includes topics such as:

Getting Started with Product Content Imports

Getting Started with Properties

Getting Started with Products

Getting Started with Parents & Variants

Content Organization - Filters & Lists

Getting Started with Digital Assets

Getting Started with Formulas

Introduction to Readiness Report Channels

Getting Started with Lightboxes

Introduction to Custom Channels

Getting Started with Catalogs

User Administration

Insights & Dashboards

Custom Channels: Digital Asset Exports

Getting Started with Enhanced Workflows

Introduction to Gap Analysis
Implementation Support
Your onboarding includes 16 advisory hours with a Salsify Implementation Consultant aimed at guiding your Salsify Project Team to configure your Salsify account in alignment with your business objectives. Advisory services topics cover best practice recommendations on setting up and using Salsify and sharing ecommerce expertise. Examples of these topics include:

Content management guidance (i.e. advising on data modeling, loading content & digital assets into Salsify, and automation of content feeds)

Syndication guidance (i.e. advising on setting up channels, channel mapping, and publishing to retailers and other destinations)

Insights reporting

People, process, and organizational setup (i.e. advising on configuring lists, users, groups, permissions, and establishing workflows to foster internal collaboration)

Sales enablement (i.e. advising on setting up digital catalogs, lightboxes, and sell sheets)

Technical guidance (i.e. advising on writing formulas, computed properties, and using the Salsify APIs)
Assumptions
Salsify will deliver the Onboarding Services described in this document subject to the assumptions listed in this section. Invalidation of these assumptions may alter the scope of services required for successful setup of the Salsify platform, and may require additional services.
Timing and Completion
The Onboarding Period is defined as the term beginning on the date of your Salsify kick-off meeting and extending for 90 days following that date. The services defined in this document will be deemed complete and expire at the end of the 90-day Onboarding Period.
The following is a sample timeline for these services:
Planning: Weeks 1-2, beginning with a kickoff call and including tailoring this sample timeline to your business objectives
Training: Weeks 3-4 and on-demand as needed
Implementation Support: To be used at any time during the Onboarding Period. Sample topics and timelines to be utilized during this period are the following: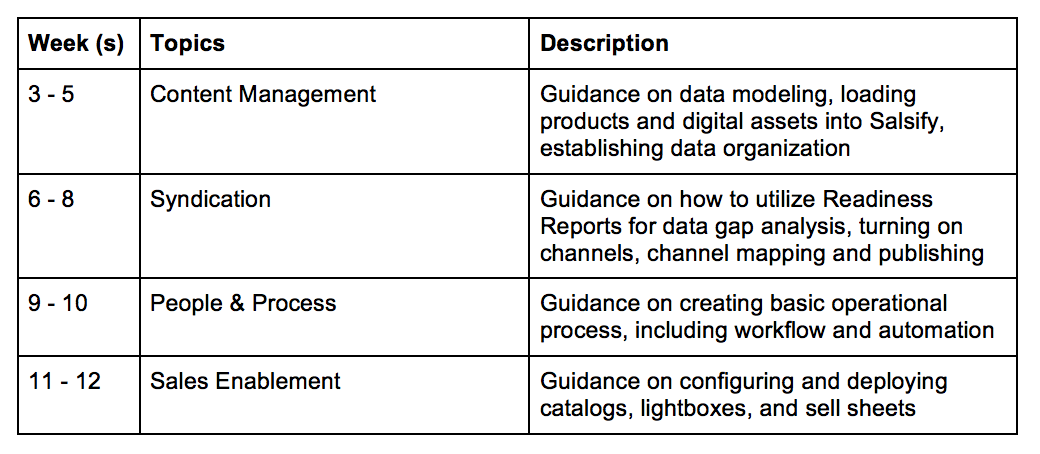 Additional Terms
This services package is governed by the referencing Salsify Order Form with the associated Terms of Service and attachments.

Implementation Consultants are available via email and phone with a standard response time within 24 to 48 business hours of request.

We request Customer limit advisory requests for live sessions to no more than eight hours in any single month or two hours in any given week.

Implementation Support topics are limited to portions of the Salsify Platform currently licensed by Customer

Unless otherwise agreed or specified, all Onboarding Services are performed remotely.

Salsify will publish to customer's retailers via a "best available" method, which may include via API, via FTP, via flat-file (CSV) generation, via spreadsheet generation, or via Salsify self-service digital catalogs.

Salsify will maintain up-to-date retailer requirements for all priority retailers that make content requirements publicly available or available via feed or API to technology partners. Salsify will work with customer personnel to maintain up-to-date requirements for all other priority retailers.

If the delivery of the Onboarding Services are delayed for a period of 10 consecutive days due to Customer's failure to make the necessary resources available or to perform Customer's obligations, Salsify may temporarily re-assign resources until such time as Customer has eliminated the cause of delay and is ready to resume the Onboarding Services.
Out-of-scope & Additional Services
Services beyond the scope of this document will require a Statement of Work. Such Statement of Work may provide services as either time & materials or fixed price arrangement pending the additional scope. Mutual agreement by all parties via an updated Statement of Work will be required prior to initiating additional services.
Salsify and our preferred partners offer a wide range of services beyond the scope of the Onboarding Services outlined above, including:
Product content and image creation, clean-up, curation, and refresh

Private and onsite trainings for Salsify administrators and end users

Syndication to GDSN cannot be utilized with the Guided Onboarding Services package. GDSN services must be purchased within separate services packages specific to GDSN

Hands on configuration of the Salsify platform, such as data modeling, imports, and end to end syndication configuration

Custom engineering services, such as:

Integration with an existing legacy system to automate flow of images into Salsify

Integration with an existing content database that is unable to produce regular flat-file (CSV) exports (e.g., automation of an XML feed into Salsify)

Integration with downstream eCommerce platforms via communications with an API or generation of custom export formats